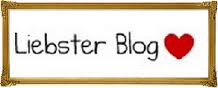 I was awarded the Liebster blog award from my two fellow blogger friends, Kristen and Angie. Thanks Ladies! They both have the cutest blogs and children around Lane's age (that I know will be some of his best friends when they are older!) They also both have great senses of humor and precious Godly families. One of the best things about moving back to Selma is people like them!
What does the Liebster Blog Award mean?
The Liebster Blog Award is given to up and coming bloggers who have less than 200 followers. Liebster is a German word meaning dear, sweet, kind, nice, good, beloved, lovely, kindly, pleasant, valued, cute, endearing, and welcome.
I am tagging some of my favorite blogs for this award:
Caroline (aka Liney Bobo) and Steven at Porch Talk With the Bobo's-one of my BFF's that is great about posting about the heart of the matter...she has always been great with details and it translates through her blog. Her husband, Steven's posts are always some of my favorites and show their love for the Lord and heart for serving. Check them out!!
The Smith Family-Julie and I went to dental school together and share a love for all things edible. She and her husband Lance have a precious son, Henry, that is a few months younger than Lane. They are always up for an adventure, love to travel and try new foods. I miss seeing them since we moved, but can keep up with them here.
Julie, me, and Lindsey in dental school
Meg Wingfield at The Wingfields, adventures in boyland-Meg and I were sorority sisters at Auburn (squirrel love) and instant friends. We studied together in the basement of our dorm many a long hour. We also might have spread squirrel food on the hall of the ChiO dorm while they were at formal one year. She has three precious little boys, and is raising them to be strong Godly men.
AGD's that night (Meg is next to me in red)
more up soon on our trip to Moulton and 8 month updates